This event has already occurred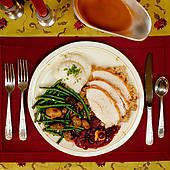 Save to your Calendar
Community Dinners are postponed until further notice.
Creating a community that cares.
Dinners are on the 2nd and 4th Mondays of the month. All are welcome.
Doors open at 4:30 pm, dinner is served at 5:00 pm.
Everyone welcome
Family friendly
Dinners by donation.
Sponsored by Peninsula United Church and Sources Food Bank.
Update for March 23 Dinner:
Our volunteers have worked hard to continue our Community Dinners by TAKEOUT but, unfortunately, our partners at Star of Sea have decided they need to close their hall and kitchen completely. So we will not be able to continue this ministry at this time. We will continue to explore how we can effectively serve people in need in our community so stay tuned, and please share your ideas with us!