December 3 - 24, 2017

Important: This event has already occurred.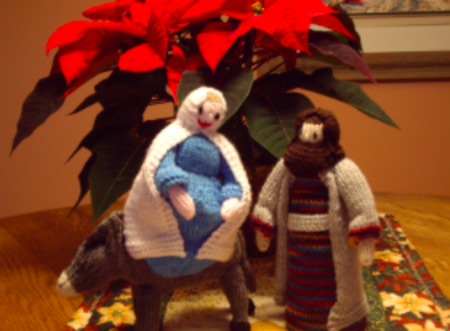 Watch the story of the Unexpected Christmas.
"Be not forgetful to entertain strangers:
for thereby some have entertained angels unawares."
Hebrews 13:2
Advent marks the beginning of the Christian year and the arrival of Christ. Las Posadas is a celebration which focuses on building and strengthening community this period of Advent. We invite you to sign up to host Mary, Joseph and their donkey in your home for a night's stay.
Through Las Posadas we re-enact Mary and Joseph's journey from Nazareth to Bethlehem and their search for lodging while building connections with other members of our church community, and connecting us in a different way with the Christmas story of welcoming the stranger. It is a playful way to think about the serious message of hospitality. When you deliver Mary and Joseph to their next lodging host(s) it opens an opportunity for conversation, coffee, a meal or.....
Questions to Ponder Through Advent
The following questions help us to remember God's boundless welcome of those who are considered outsiders. As the world changes we continue to be challenged to be a welcoming and faithful people.
Who are the strangers in our community and how can we welcome them?
Las Posadas connects people and cultures. How do we help forge connections?
Las Posadas is a tradition that is hospitable and flexible. As Peninsula United Church, how can we grow in flexibility and adaptability as we journey into our new future?
We only truly see the stranger when we know their individual stories and traditions. How can we become more inter-culturally competent? Hospitality begins when we perceive ourselves and others as strangers in a community of welcome.
Seeing Christ's presence in the other enables us to welcome Christ into the midst of the community, with all of the costs and joys of discipleship. Gentle, attentive, patient, and consistent care is required to create a community where members are intentional about seeking and welcoming all.
Las Posadas (which means lodging or accommodation in Spanish) had its origins in Spain but is now celebrated chiefly in Mexico. It was traditionally a 9 day celebration with each day representing a month of pregnancy. In small villages in Mexico it is not uncommon for the whole village to turn up at your house for dinner on the night you are hosting. In North and Central America this tradition has been modified to include the whole of the period of Advent.
Return to Events
---