Lenten Lunches
Lenten Lunches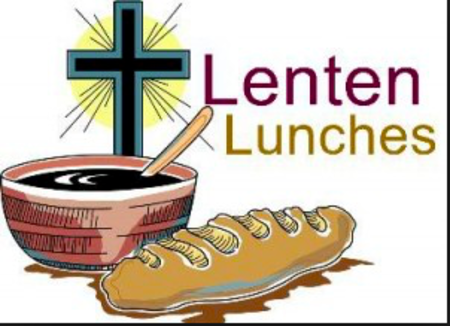 Come break bread with members of other Peninsula faith communities. Make these lunches a part of your Lenten spiritual practice.
The Lenten Lunches program will be starting Thursday Feb. 22 at 12:00 and continuing for the following 5 weeks. PUC is hosting on March 1st and we need your help.You can help by: purchasing buns, setting up, serving, cleaning. Contact Val Weinert, Joan Strutt or Noreen Fedowich if you can help.
Time: 12 noon -1:00pm
What: light refreshments and spiritual growth
Where:
Feb. 22 – Mount Olive Lutheran Church – 2350 148th St.
Mar. 1 – St. Mark's Anglican Church – 12953 20th Avenue (Peninsula UC hosting)
Mar. 8 - Star of the Sea Parish - 15262 Pacific Ave.
Mar. 15 – St. Mark's Anglican Church – 12953 20th Avenue (St. John's Presbyterian hosting)
Mar. 22 – St. Mark's Anglican Church – 12953 20th Avenue
Return to Events
---